Know the Yeo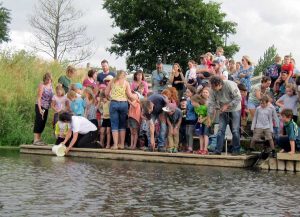 YACWAG pressed for mitigation for damage to the Strawberry Line at Congresbury by IDB contractors, and at Yatton by Western Power.


Malcolm Dowling finished the hedge-laying at Kenn Moor, giving new views of the moor. A hedge was also laid in St Mary's Churchyard.


With the Rivers Trust we organised an event on Congresbury Millennium Green called 'Know the Yeo'.


Wine ropes were deployed along the Strawberry Line for National Moth Night, attracting a Red Underwing moth.


Natterers bats were found roosting in Littlewood.

YACWAG launched a new website for the Jubilee Tree Project.


Tree Dressing Day involved 55 people making wildlife bunting for trees in Yatton, Claverham and Congresbury.


Tony Moulin received the Clevedon Mercury Environmental Hero Award on behalf of YACWAG.